Trilogy Yoga Wall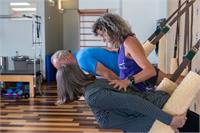 Our Trilogy Yoga Wall class combines traditional Pilates work, resistance training, and barre-inspired movement to create an energetic, low-impact workout. Who doesn't want to improve posture, or strengthen the core, tone and tighten the legs, glutes and upper arms? You'll see all of that and more at our trilogy yoga wall class.
Yoga Wall Restore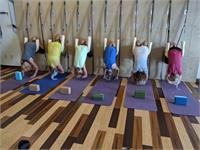 Itching to release your hamstrings? Is your back stiff and creaky? Shoulders tight? Then this low-to-no impact class focuses on finding the why behind that stiffness, tightness, and achy-ness. You'll understand how small changes in your movement can improve your posture and heal your body. These small changes in the short term will positively affect your health and well being in the long term.
Complete Core Reformer + Yoga Wall Class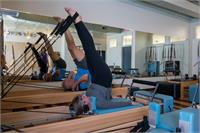 The reformer and the Great Yoga Wall ® make excellent class companions. Between the two you'll experience deep core activation, balance and flexibility challenges, and gentle traction for your hips and spine. This class is suitable for all experience levels and a wide variety of age groups. You'll have lots of options for increasing or decreasing the challenge of the exercises to suit your needs.